Bridges constructed from traditional materials of timber and steel are increasingly being replaced by FRP bridges. FRP bridges are more cost-effective than their traditional counterparts as they require substantially lower maintenance and replacement. Being lightweight and easily pre-fabricated greatly reduces installation times and eliminates the need for heavy machinery. This further improves cost savings as labour time and equipment operational costs are greatly reduced.
Quick installation also means shorter downtimes, keeping inconveniences minimal.
Treadwel's FRP products are constructed with fire retardant additives, which mean that in the event of a fire, our products will not feed the flames. Our FRP is also corrosion resistant with UV inhibitors, making it ideal for the outdoor environment.
View our Bridge Case Studies here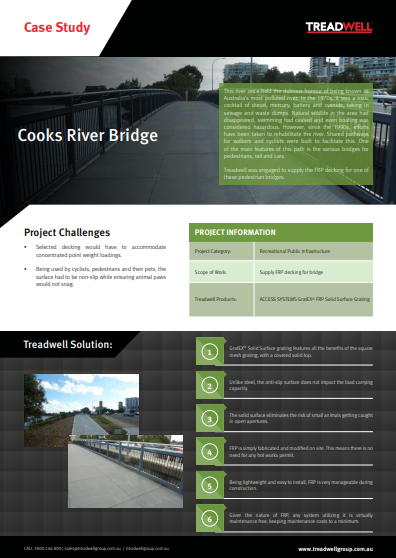 Cooks River Bridge, New South Wales
V 2021.1 550 KB
Mersey White Water Forest Reserve, Tasmania
V 2021.2 600 KB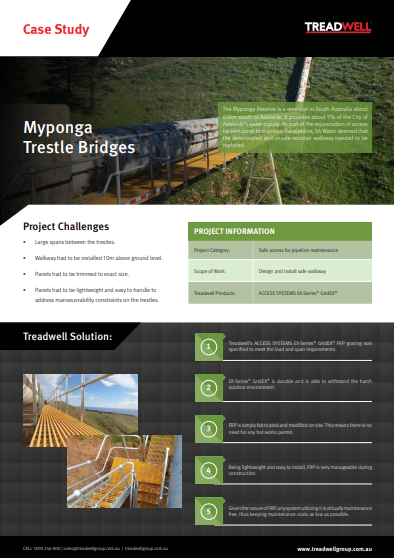 Myponga Trestle Bridge, South Australia
V 2020.6 580 KB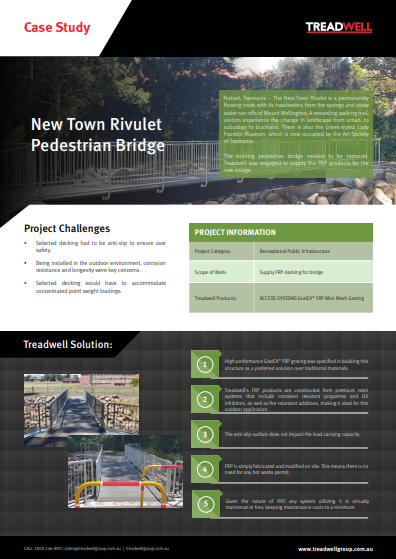 New Town Rivulet Pedestrian Bridge, Tasmania
V 2021.3 580 KB
View Our Bridge Project Videos here